At this year´s art-festival again more than 50 artists from 9 countries took part, donating their artwork for the good cause of helping the victims of the 2011 earthquake and tsunami catastrophe in Northwest-Japan. Half the proceeds of the 2015 event also was donated to people who lost there homes in the August 2014 mudslide catastrophe in Hiroshima. We could sell about 50% of the donated artworks and together with the proceeds of the Opening Party/Concert and after-event sales we could collect
236742 Yen !!
118371 Yen were donated on July 1st to the
Iwaki Ikueisha, an orphanage in Iwaki, Fukushima (in collaboration with the charity fund raising event "Cheer for Fukushima" in Tottori City, May 2015) :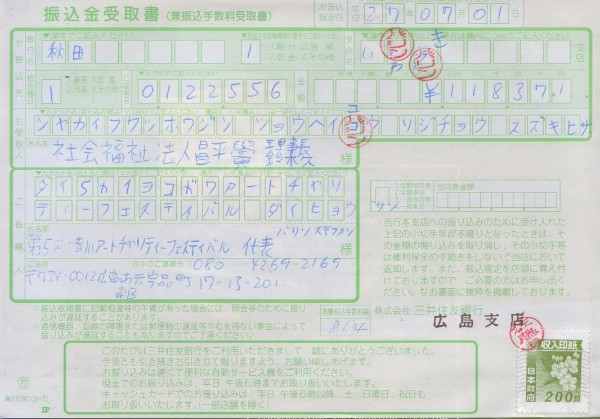 More info here:
http://cheer4fukushima.wix.com/c4f15#!the-cause/czkp
The remaining half was donated to the City of Hiroshima mudslide catastrope fund: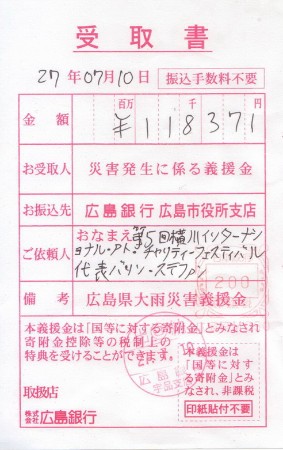 From Iwaki Ikueisha we received another donation receipt later on and a Thank You letter in Japanese: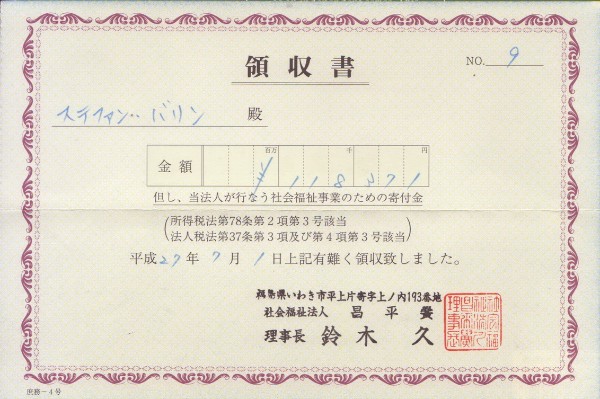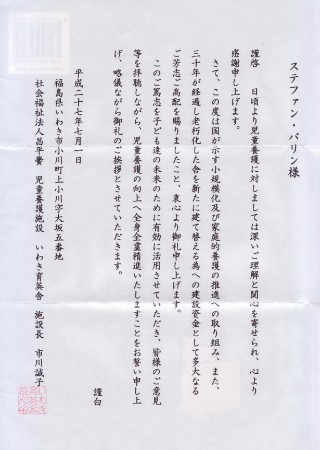 The event was very successful with the highest raised donations since holding the first event in 2011 !!! We appeared in TV, newspaper and Internet: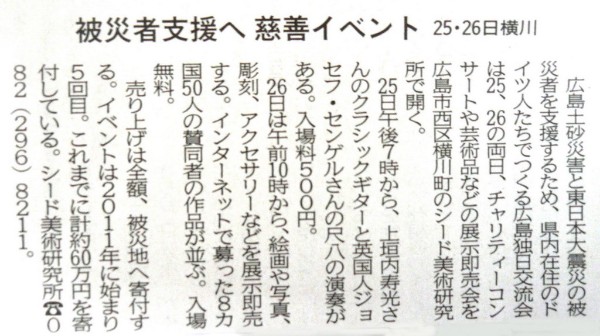 Chugoku Newspaper
Internet Interview:
http://hiroshima.mypl.net/mp/pickup_hiroshima/?sid=33308
5th Yokogawa-Art-Charity-Festival 2015
April 25/26th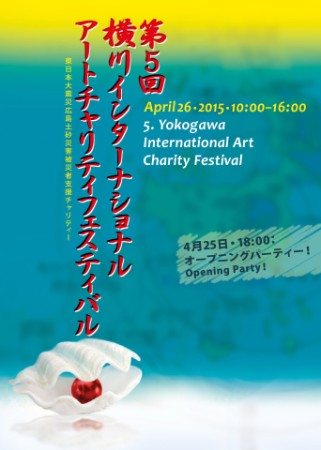 CHARITY LIVE CONCERT - OPENING PARTY
Sat, APRIL 25th, 18:00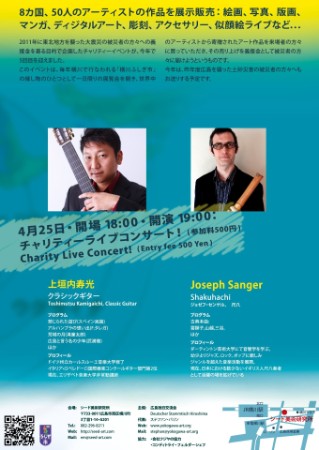 Fundraising party for the victims of the 2011 Tsunami catastrophe and the Hiroshima mudslide catastrophe last year.

Doors open 6 pm
Live Concert starts at 7 pm
Entry fee: 500 Yen

German beer and wine, food, softdrinks

100% of the party proceeds will be donated !!!

Hope to see you all there,

Stephan

Performers:

19:00 – 19:30
Toshimitsu Kamigaichi – classical guitar
Guitar teacher at Hiroshima Elizabeth University of Music

19:30-20:00
Joseph Sanger – shakuhachi

They also will perform some pieces together.

You will also of course have a chance to buy the exhibited artworks for the good cause.

Googlemap-Link to the venue:
http://goo.gl/maps/XvZWi

The main event will be the following day, Sunday, April 25th from 10:00 to 16:00, as part of the Yokogawa Fushigiichi-festivals.
With friendly support of Fujiya company Hiroshima, Konditorei Felderchef Hatsukaichi
5th Yokogawa-Art-Charity-Festival
Sun, APRIL 26th, 10:00 - 16:00
Fundraising exhibition and sales for the victims of the 2011 Tsunami catastrophe and the Hiroshima mudslide catastrophe last year.

LIVE-Portraits, Photography, Paintings, Sculptures, Drawings, Accessories, postcards,…..

Charity – Art – exhibition with artworks from 50 artists from 9 countries !! Exhibition and sales from 10:00 to 16:00 as part of the Fushigi-ichi festival´s around Yokogawa station on Sunday, April 26 th.The entry is free of charge (donations welcome!)

The donated artworks will be exhibited and sold and 100% of the proceeds will be donated.
Please come, see and buy/donate !! And please bring your friends and family along. The surrounding matsuri is also worth going, with the Cosplay-Parade, 5 Live stages, food and drinks.


GOOGLE-Link to the venue:
http://goo.gl/maps/XvZWi


Webseite Fushigi-ichi festival:
http://wondercarnival.web.fc2.com/fushigi/indexf.html
The Event:
Yokogawa-International-Art-Charity-Festival
In cooperation with SEED Art Laboratory Hiroshima
Purpose: Fundraising for the victims in the affected areas of the 3/11/2011 earthquake and tsunami in Japan, AND the Hiroshima mudslide catastrophe August 2014 in Hiroshima
Date: 25./26. April 2015
Place: SEED Art Laboratory ,Yokogawa, Hiroshima, Japan
Time: April 25th: OPENING PARTY from 18:00
April 26th: Exhibition and Sales from 10:00 to 16:00
Entry fee: Opening Party with Live music: 500 Yen
April 25th:0 Yen (donations welcome)
Selling price of the works: 1000-10000 Yen
Deadline to confirm participation: April/01/2015
Deadline for submitting artworks: April/13/2015
If you have any questions, please contact Stephan at stephan@yokogawa-art.org
About your works:
Any kind of artwork, design or crafted items will be accepted.
Artworks adressing the topic/problem of Fukushima, radiation or nuclear power are VERY WELCOME !!!
( In our experience smaller artworks, paintings, photos and handcrafted accessories are better to sell over here in Japan )
Delivery:
Artwork delivery is usually by post (please keep in mind the shipping times from your country to Japan) or FREE digital upload and FREE printout.
In case you don´t deliver personally to SEED, you must pay the delivery costs on your own expenses.
Digital works can be uploaded and printed up to A3 size for free
(Upload information will follow after receiving your application).
Smaller digital works, e.g. postcards, can also be multiplied and printed in 10 or 20 prints.
The artist decides the selling price. If there´s not such an information the organisers will do.
Submitted artworks cannot be sent back !!! (Although there´s a possibility to do so, if the shipping costs will be paid by the artist)
How to take part:
Until April 1st , 2015 by mail to stephan@yokogawa-art.org (English, German, Japanese) or Maehara Sensei from SEED (Japanese, English)
Please include basic information like: name, nationality, no. of works, material, selling price.
Informations about past events you can find on this website.